GeoServer is an open source server for sharing geospatial data.
Designed for interoperability, it publishes data from any major spatial data source using open standards.
Built on Open Standards
GeoServer is a OGC compliant implementation of a number of open standards such as Web Feature Service (WFS), Web Map Service (WMS), and Web Coverage Service (WCS).
Additional formats and publication options are available including Web Map Tile Service (WMTS) and extensions for Catalogue Service (CSW) and Web Processing Service (WPS).
Community Driven
Being a community-driven project, GeoServer is developed, tested, and supported by a diverse group of individuals from a number of different organizations around the world.
Special Thanks
The following products are kindly supporting open source projects like GeoServer.

Codehaus is a collaborative software development environment for projects with opensource (but business friendly) licences.

JRebel is a JVM-plugin that makes it possible for Java developers to instantly see any code change made to an app without redeploying. Learn more...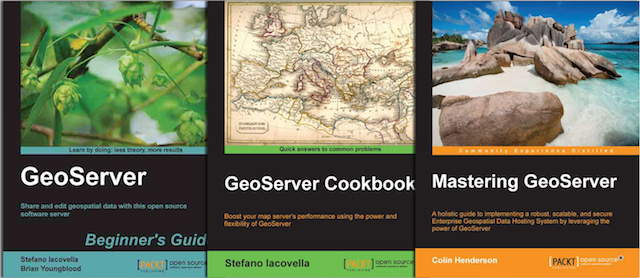 GeoServer Beginner's Guide, GeoServer Cookbook and Mastering GeoServer are available from Packt Publishing. Use the Discount code ggm50 until the end of March for 50% off.