The GeoServer team is pleased to account the greatly anticipated 2.6.0 release. This release is now available for download with zip, war, dmg and exe bundles available (see the change log for details on last minute fixes).
Thanks to the user list for testing the 2.6-beta and 2.6-RC1, this collaboration and testing really helped smooth our migration to Java 7. The Code Sprint at FOSS4G was able to fill in gaps testing oracle curve support, the marlin extension on a range of platforms, and providing documentation introducing wind barbs and inline custom marks.
Thanks to Ian Turton, Jody Garnett and Kevin Smith for assisting in this release. This release is made in conjunction with GeoTools 12.0.
Java 7
Ensure you are using Oracle o OpenJDK Java 7.
Support for Java 7 is not only a new feature for GeoServer 2.6.0 - Java 7 is a requirement.
The installation instructions have been updated for windows, mac and linux users. Mac users will have an easy upgrade as GeoServer.app includes an appropriate Java 7 virtual machine.
New and Improved
New functionality: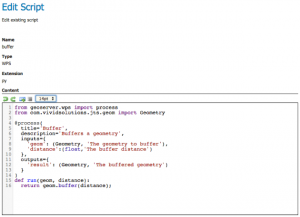 About GeoServer 2.6
Articles and resources for GeoServer 2.6 series:
Tutorials